Conference Location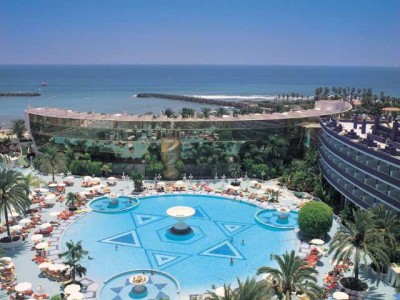 The conference will take place at the Cleopatra Palace Hotel, Av. de las Américas, s/n, Playa de las Américas, 38660 Arona, Tenerife, Spain.
Download the following guide with answers to all questions you may have regarding the location and how to get there:
Tenerife is the largest and most populous island of the seven Canary Islands; it is also the most populated island of Spain. About five million tourists visit Tenerife each year, the most of any Canary Islands. Tenerife also has the highest elevation of Spain, a World Heritage Site that is the third largest volcano in the world from its base, El Teide.
Tenerife is known internationally as the "Island of Eternal Spring" (Isla de la Eterna Primavera). The island, being on a latitude of the Sahara Desert, enjoys a warm climate year-round with an average of 20–22°C in the winter and 26–28°C in the summer and high sunshine totals.
Tourism is the most prominent industry in the Canaries, which are one of the major tourist destinations in the world. Tourism is more prevalent in the south of the island, which is hotter and drier and has many well developed resorts such as Playa de las Americas and Los Cristianos. In the more lush and green north of the island the main development for tourism has been in the town of Puerto de la Cruz. The town itself has kept some of its old-harbour town charm mixed with northern European influences.
There are many monuments on the island, including the Cathedral of San Cristóbal de La Laguna, the Church of the Conception of La Laguna and the Church of the Conception in the capital. The Basilica of Candelaria|Basílica de Nuestra Senora de la Candelaria can be found on the island (Patron of Canary Islands). The island also has several archaeological sites of Guanche time, which generally are cave paintings that are scattered throughout the island, but most are found south of the island, such as, Cambados The Archaeological Area and the archaeological site of El Barranco del Rey both in Arona. Also noteworthy on the island are the defensive castles located in the village of San Andrés, as well as many others throughout the island. Among other impressive structures is the Auditorio de Tenerife, one of the most modern in Spain, which can be found at the entry port to the capital (in the southern part of Port of Santa Cruz de Tenerife). Another prominent structure is the Torres de Santa Cruz, a skyscraper 120 meters high (the highest residential building in Spain and one of the tallest skyscrapers in the Canary Islands).