Conference Location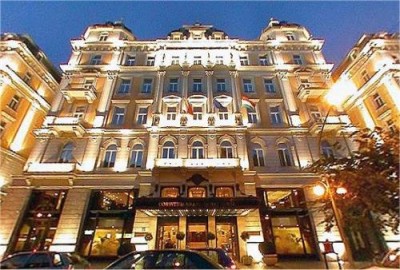 The conference will take place at the Corinthia Hotel Budapest, Erzsébet körút 43-49, Budapest H-1073, Hungary.
Download the following guide with answers to all questions you may have regarding the location and how to get there:
Budapest is the capital and the largest city of Hungary, the largest in East-Central Europe and the seventh largest in the European Union. It is the country's principal political, cultural, commercial, industrial, and transportation centre, sometimes described as the primate city of Hungary. Budapest became a single city occupying both banks of the river Danube with a unification on 17 November 1873 of west-bank Buda and Óbuda with east-bank Pest.
Cited as one of the most beautiful cities in Europe, its extensive World Heritage Site includes the banks of the Danube, the Buda Castle Quarter, Andrássy Avenue, Heroes' Square and the Millennium Underground Railway, the second oldest in the world. Other highlights include a total of 80 geothermal springs, the world's largest thermal water cave system, second largest synagogue, and third largest Parliament building. The city attracts about 4.3 million tourists a year, making it the 25th most popular city in the world (and the 6th in Europe).
The dance tradition of the Carpathian Basin is the unique area of the European dance culture, which is also a special transition between the Balkans and Western Europe regions. Several authentic Hungarian folk dance ensembles work in Budapest, some of them professional. Budapest is one of the few cities in the world where a high school for folk dance learning exists.
In Budapest there are currently 837 different monuments, which represent the most of the European artistic style. The classical and unique Hungarian Art Nouveau buildings are prominent. The city glories in 223 museums and galleries, which presents several memories, not only the Hungarian historical, art and science ones, but also the memories of universal and European culture and science. There are also forty theaters, seven concert halls and an opera house. Outdoor festivals, concerts and lectures enrich the cultural offer of summer, which are often held in historical buildings. A lot of libraries have unique collections in Budapest, such as the National Széchenyi Library, which keeps historical relics from the age before the printing of books. The Metropolitan Szabó Ervin Library plays an important role in the general education of the capital's population.