Plenary Lecture

Computer Guided Human Programming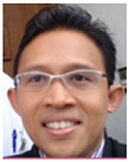 Professor Eko Supriyanto
Director of IJN-UTM Cardiovascular Engineering Centre
Universiti Teknologi Malaysia
Malaysia
E-mail: eko@biomedical.utm.my

Abstract:
Human development is a response of education and environment to human body system. There are eight stages in the normal human development, which is baby (0-1 year old), toddler (1-3 years old), young children (3-5 years old), children (6-12 years old), adolescence (13-19 years old), young adulthood (20-40 years old), middle adulthood (40-60), and old adulthood (60-end of life). This includes the development of physical body (motoric and sensory), cognitive and knowledge, self-help and skill, social and emotional, and moral. Since human is time dependent DNA coded bioenergy symphony, the genetic, heredity, environment and health condition of organ system play important role in human development. It is well known that in the beginning of life, physical body including motoric system, sensory system and processing system growth very fast and becomes foundation of future human development. The right intervention to motoric system will create a strong and flexible body movement, intervention to sensory system will develop very sensitive environment response, whereas the excellent intervention to processing system will produce a knowledgeable cognitive system. Success in the intervention to these system, will provide a good platform for knowledge, skill, social, emotional and moral development. With considering health condition of human, it is possible to program human development to achieve certain purpose. Since ancient, the programming of human has been implemented in the normal daily life, this is however just partial programming and less interrelated. Many countries have developed and implemented a connected education system from toddler until young adulthood. This system is however also not focused on individual human development and not holistic approach. In this paper, a new model of human programming will be introduced. The programming is guided by computer which has function to collect, store, process and send data for human development assessment, analysis and intervention. The guidance system consist of human computer interface, databases and rules, which covers physical, cognitive and knowledge, self help and skill, social and emotional as well as moral development. Databases and rules for baby, toddler and young children have been completed and tested in the children development centre. Test result shows that this guidance system is very useful for children, parents and trainers to improve the ability of children according to given target. This system is also applicable for slow learner and Down syndrome children. For adulthood human, this system can be used to guide the career development, and assist human resources department for new staff hiring as well as help police department for criminal investigation.
Brief Biography of the Speaker:
Eko Supriyanto is a Full Professor at the Faculty of Biosciences and Medical Engineering, Universiti Teknologi Malaysia. He is also a permanent Guest Professor at Faculty of Computer Science and Automation, Ilmenau University of Technology, Germany. He obtained his Doctor from Faculty of Electrical Engineering, University of Federal Armed Forces Hamburg, Germany. His research interest is application computer in education and healthcare. He has published more than 200 international journal / proceeding papers and obtained more than 30 international awards.