Conference Location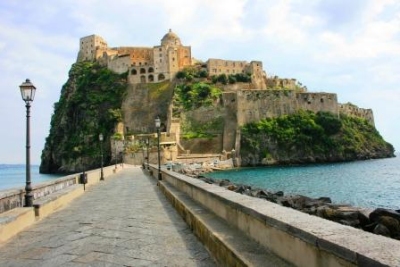 The conference will take place at the Hotel Continental Ischia, Via M. Mazzella, 74, 80077 ISCHIA PORTO (Na), Italy.
Download the following guide with answers to all questions you may have regarding the location and how to get there:
Ischia is a volcanic island in the Tyrrhenian Sea. It lies at the northern end of the Gulf of Naples, about 30 kilometres (19 miles) from the city of Naples. It is the largest of the Phlegrean Islands. Roughly trapezoidal, it measures approximately 10 km (6 miles) east to west and 7 km (4 miles) north to south and has about 34 km (21 miles) of coastline and a surface area of 46.3 square kilometres (17.9 sq mi). It is almost entirely mountainous, the highest peak being Mount Epomeo at 788 metres (2,585 feet). The island has a population of over 60,000 people. Ischia is the name of the main comune of the island. The other comuni of the island are Barano d'Ischia, Casamicciola Terme, Forio, Lacco Ameno and Serrara Fontana. The main industry is tourism, centering on thermal spas that cater mostly to European (especially German) and Asian tourists eager to enjoy the fruits of the island's natural volcanic activity, its hot springs, and its volcanic mud.
The roughly trapezoidal island is formed by a complex volcano immediately SW of the Campi Flegrei area at the western side of the Bay of Naples. The eruption of the trachytic Green Tuff ignimbrite about 56,000 years ago was followed by caldera formation. The highest point of the island, Monte Epomeo (788 m), is a volcanic horst consisting of a Green Tuff ignimbrite deposit that was submerged after its eruption and then uplifted. Volcanism on the island has been significantly affected by tectonism that formed a series of horsts and grabens; at least 800 m (2,624.67 ft) of uplift has formed as a result of resurgent doming during the past 33,000 years. Many small monogenetic volcanoes were formed around the uplifted block. Volcanism during the Holocene produced a series of pumiceous tephras, tuff rings, lava domes, and lava flows. The latest eruption of Ischia, in 1302, produced a spatter cone and the Arso lava flow, which reached the NE coast.
Main sights include Aragonese Castle, Gardens of La Mortella, Gardens of Villa Ravino, Villa La Colombaia, Sant'Angelo (Sant'Angelo, in the comune of Serrara Fontana), Maronti Beach (Barano d'Ischia), Church of the Soccorso' (Forio), Bay of Sorgeto, with hot thermal springs (Panza), Poseidon Gardens - spa with several thermal pools (Panza), Citara Beach (Panza), English's Beach (Ischia), Pitthekoussai Archaeological museum, The Angelo Rizzoli museum.